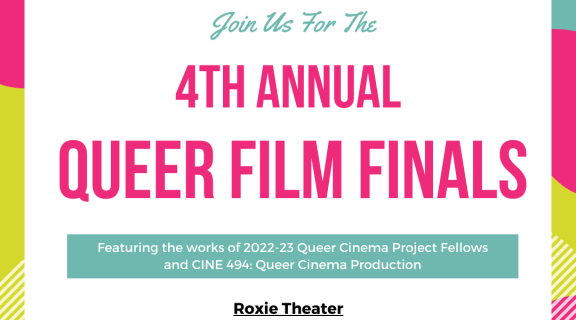 4th Annual Queer Film Finals at Roxie Theater
Monday, May 15, 2023
Event Time
06:30 p.m. - 08:30 p.m. PT
Location
Roxie Theater (3117 16th St, San Francisco, CA 94103)
Contact Email
symons@sfsu.edu
Overview
We are excited to announce that the 4th Annual Queer Film Finals will be held at the Roxie Theater (3117 16th St. San Francisco, CA 94103).
Please join us on Monday, May 15, 2023 from 6:30-8:30 PM for a screening of works from the 2022-23 Queer Cinema Project Fellows and CINE 494: Queer Cinema Production.
Admission is free and all are welcome. Seating will be on a first come first serve basis. We hope to see you there!