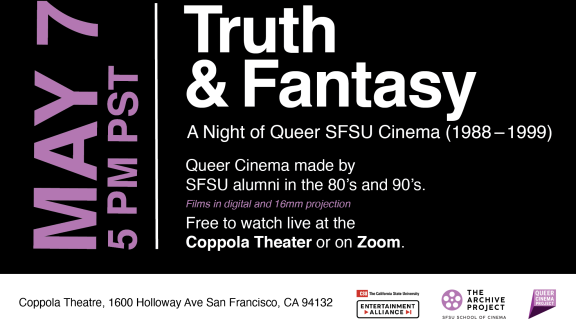 Truth & Fantasy: Queer SFSU Cinema 1988-1999
Saturday, May 07
Event Time
05:00 p.m. - 07:00 p.m.
Location
SFSU Coppola Theatre (Fine Arts 101)
Overview
Date and Time: Saturday, May 7th, 5:00 PM PST
Location: Coppola Theatre (Fine Arts 101)
This screening presents several queer short films made by San Francisco State University Cinema alumni throughout the 1980's and 1990's. It's a part of The Archive Project's mission to explore the archives and highlight the larger cinematic history within our community. These films cover numerous genres, subjects and methods of filmmaking, aligned in their common goal of showing the diversity and limitlessness of what a queer cinema can contain. Q&A with filmmakers, facilitated by MA student Ryan McCandless and filmmaker Karly Stark, follows the screening. Co-presented by Queer Cinema Project and supported by the CSU EA. 
Films:
A Woman's Place is in the Kitchen (Pam Doré, 1999, Digital)
The Straight Agenda (John Binninger, 1994, Digital)
Naomi's Legacy (Wendy Levy, 1995, 16mm)
A.I.D.S.C.R.E.A.M. (Jerry Tartaglia, 1988, 16mm)
Not for Nothin' (Cathy Crane, 1996, 16mm)
Register here for the in person screening